---
JOEY HULIN – AUTHOR, MEDITATION FACILITATOR AND RETREAT HOST
I created Horizon Inspired to offer down-to-earth, reflective and impactful meditation support, written inspiration and immersive experiences, and to bring people together as a conscious community.
I live and breathe the musings I share. I'm not a teacher but more a facilitator. I create opportunities for people to pause and reconnect, to their hearts and the present moment.
I have just finished working on my first commissioned book, due for publication in Autumn 2021 and am now working on my second. I write for a number of international magazines as a freelance writer and I am a meditation teacher on Insight Timer.
My intention is simply to serve and uplift. I believe true and lasting change starts with us as individuals. It is our responsibility to be the change and just imagine a world where we are all operating from truth, connection and love.
We are in this together and I am so glad you are here.
THE RETREAT TEAM
The retreat team is composed of local holistic health professionals, each with their own unique gifts which they have each been put on this earth to share! They weave presence, individuality, kindness and in-depth knowledge into their practice and offerings. I would obviously say this but it couldn't be more true; they are the kindest, most authentic, approachable, warm group of people and it is an honour to work along side them.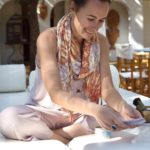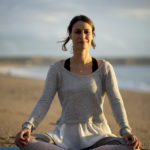 MASSAGE & HOLISTIC THERAPISTS
Tia Tamblyn (Tia Tamblyn Massage), Lisa Allen (Lisa Allen Holistic Therapies), Kirsten Baker (Cornish Holistic Therapies) and Linda Shabtai (Reflexology and host) all provide body work and energy healing.
They all create the most magical space both energetically and aesthetically for you to bathe in nourishment for body, mind and soul. Alongside offering a range of therapies on various retreats across Cornwall, each own and manage their own treatment spaces in the county too.
YOGA TEACHERS
Aimee Stapleford (Aimee Wellbeing) Aimee has been studying, teaching and sharing the benefits of holistic approaches to wellbeing for over a decade. Working with energy medicine through multidisciplinary techniques such as yoga, Ayurveda, diet and lifestyle to help others meet their true potential and to live a balanced and happy life… and just being around her feels nourishing and refreshing.
GUT HEALTH AND NUTRITION
Dr Sebastian Senociain is a qualified western medical doctor who has also explored and integrated his practice through Ayurveda and Functional Medicine. Having practised medicine in the public healthcare system of his native Chile for a number of years, disappointed at the impersonal way it worked, he decided to expand and explore his vision of the mind-body-spirit triad through Ayurvedic therapies and lifestyle. This led him to train in Functional Medicine, which he views as the missing link between Eastern and Western Sciences. He brings a warm, open, kind energy alongside in-depth knowledge of gut health, nutrition and food as medicine.
Jess North (Yoga Grace) came to yoga 16 years ago and after exploring many different styles she trained under the guidance of Swami Nishchalananda Saraswati on a 2 year British Wheel of Yoga teacher training programme at the Mandala Yoga Ashram, Carmarthen. She integrates aromatherapy oils into her classes and you might catch her calling these classes 'smelly yoga' followed by her infectious giggle.
BEHIND THE SCENES
Richard Tamblyn is one of the hardest working people I know, working tirelessly to keep Botelet Farm, where we host the majority of our retreats, not only in pristine working order but also looking so effortlessly chic, unique and full of charm. Botelet is one of the most magical locations I have ever come across and that is largely due to the love, time and dedication poured into the land, every brick and every detail. Practice mindfulness when you are onsite and you'll see just how much details and little thoughtful quirks there are!
Mama Hulin My mum, Nikki, has been hand making lavender bags and eye pillows as her contribution to Horizon Inspired since the very beginning in 2016. She must have made hundreds and hundreds of little lavender gifts over the years, handed to guests on retreats and on events. We often wonder where they all end up – hung in cars, under pillows and in pants draws up and down the country!
To see all our upcoming retreats take a peek at the retreat page here – we can not wait to nourish you.